Our GIT IT! Content for April 12, 2019
This week, for our GIT IT content, we have a Never-Ending LENT Minibook! This book is made from one sheet of paper that you can print on your printer, cut and fold. I call it never-ending because once assembled, when you read it and get to the last page, you automatically turn back to the first page. The book focuses on the two acronyms for LENT and provides a brief description of the meaning that can be taken from each word of each acronym.
This can be a very useful tool for meditating on "LENT" (or perhaps using as a mantra) and/or contemplating on each of the words that comprise the acronym. It also is a good tool for engaging your children in a discussion during the remainder of this Lenten season. So fire up your printer, find your scissors and have fun making this resource.  Total time to complete after printing is about 5 minutes.
Want to receive more?  Sign up for our weekly newsletter to receive more content like this!
On Your Smartphone?
Text GITIT to 22828 to join.
(Message and data rates may apply.)
LENT Minibook Template
Instructions are after the template.
(On computer, hover over document to view navigation tools. On tablet, tap on document to view navigation tools. On phone, tap on "View in Full Screen" button to view navigation tools.)
STEP 1
Print out the template and lay it on a clean hard surface.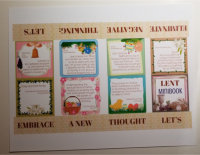 STEP 2
Cut off the white border at the top and bottom of the page even with the border. (Leave the sides alone.)
STEP 3
Fold the paper in half horizontally. (The unprinted sides should be touching and the printed side facing up.)

STEP 4
Fold the paper in half again, this time vertically.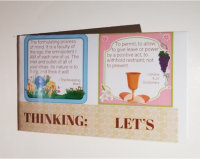 STEP 5
Now fold just the top half of the folded paper vertically, so that it is on top of the "Thinking" page.
STEP 6
Turn the book over and fold the cover of the page vertically on top of the "Negative" page. Use your fingers to press all of the folds so that they are a flat as possible.