Positive P
This week, our GIT IT content is a special crossword puzzle. I was reviewing the daily reading for today and for some reason, paid more attention to the title of the book we are reading (The Prospering Power of Prayer) and noticed that the three main words are positive words that start with "P." I thought about other positive "p" words and decided to share them in a puzzle. I also decided to give you some help in solving the puzzle.
If you print out the PDF version of the puzzle, you will  see the clues as well as the list of words that belong in the puzzle! All you have to do then is match the words with the clues.  Have fun!
Want to receive more?  Sign up for our weekly newsletter to receive more content like this!
On Your Smartphone?
Text GITIT to 22828 to join.
(Message and data rates may apply.)
Click on the "Start Puzzling" button below to solve the puzzle!  Instructions for operating this online version is right below the puzzle.
Basic Navigation Instructions
Navigating this online puzzle is easy!  Click the "keyboard" to show/hide the QWERTY keyboard on your tablet or phone. use the "hamburger" menu in the upper right side to show/hide clues.  Click or tap directly on the puzzle to solve each clue.  Double click or tap to change directions. See the picture below for visual instructions.  Don't want to complete the puzzle online?  No problem! Scroll down to see and print out the PDF version!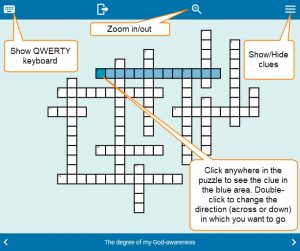 Positive P
(On computer, hover over document to view navigation tools. On tablet, tap on document to view navigation tools. On phone, tap on "View in Full Screen" button to view navigation tools.)