Sabbath
This week's GIT IT content is a word search about the Sabbath. As noted in the Metaphysical Bible Dictionary, "the Sabbath of the Lord has nothing to do with any day of the week. God did not make days and weeks, nor has He darkened His clear concepts of Truth by the time element. Time is an invention of the Human."
The Bible Dictionary further explains that "the Sabbath is a very certain, definite thing.  It is a state of mind that [a person] enters or acquires when he goes into the silence of his own soul, into the realm of Spirit." 
As usual, you can solve this online or print the word search puzzle and solve it on paper.  Try reflecting on the words in erms of its relationship to the Sabbath and your practice of the Sabbath. Have fun!
Want to receive more?  Sign up for our weekly newsletter to receive more content like this!
On Your Smartphone?
Text GITIT to 22828 to join.
(Message and data rates may apply.)
Word Search Puzzle Instructions
You can solve this puzzle on a computer or on a smart device (phone/tablet.) Click on the "Start Solving!" button in the section below. A window with the puzzle will open up and look something like this: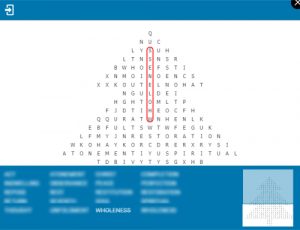 To highlight a word, which can be vertical, horizontal or diagonal, use your mouse on the computer of stylus/finger on your smart device to select all of the letters in the word you have found.  If you are correct the word will remain highllighted ad it will be crossed off on the word list. To see oter parts of the puzzle, move around the "blue box" shown on the puzzle thumbnail to another part. That's it!  Have fun!
Concerning Sabbath PDF Download
(On computer, hover over document to view navigation tools. On tablet, tap on document to view navigation tools. On phone, tap on "View in Full Screen" button to view navigation tools.)